Asheville can add one more name to its map. RiverLink is proud to announce that the name "Penland Creek," has been accepted for a stream in Westwood Place, a neighborhood in East West Asheville bounded by Haywood Road, Craven Street, I-26 and Patton Avenue. Penland Creek was chosen after months of community input and voting, representing a nod toward Johnny Penland and his father, Grover Penland, who began Penland's Auctions in the late 1950s on what is now the New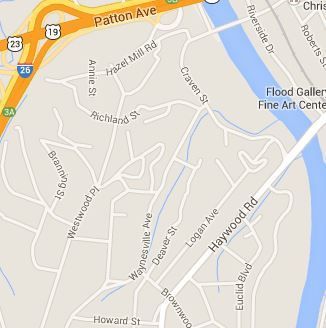 Belgium site. The famous auction house was active until 2013.
From the United States Geological Survey: "The U.S. Board on Geographic Names, at its April 30, 2015 meeting, approved the proposal to apply the new name Penland Creek to an unnamed stream in the City of Asheville. The name has been entered into the Geographic Names Information System, the nation's official geographic names repository, which is available and searchable online at http://geonames.usgs.gov. The entry reads as follows:
Penland Creek
: stream; 0.8 mi. long; heads in the community of West Asheville, 2.2 mi. WSW of White Fawn Gap at 35°34'40"N, 82°34'41"W, flows NNE to enter the French Broad River 2.2 mi. SSE of Richmond Hill; named in association with the Penland Auction House, the former site of which the stream flows through; Buncombe County, North Carolina; 35°35'14"N, 82°34'14"W; USGS map -Asheville, 1:24,000."
Name that Creek is a long-time project whereby RiverLink asks the community to submit suggestions for creek names and then vote for the most fitting name and having a creek-naming ceremony. After a name is chosen, it is submitted to the United States Geological Survey and eventually becomes the official name for the creek. Since the project's inception, RiverLink has sponsored two other successful creek name changes with the help of community volunteers: Buttermilk Creek, a tributary of Hominy Creek in West Asheville, and Big Branch, a tributary of Reems Creek in Weaverville.
Any unnamed tributary of the French Broad is a candidate for Name that Creek. Interested parties can contact RiverLink's Dave Russell at dave@riverlink.org for more information.