Registration is open for RiverLink's Anything That Floats Parade to be held on Saturday, August 13, 2016 on the French Broad River in Asheville. Join RiverLink for the wildest, wackiest event of the summer. Creating and building a raft, float or flotilla with fun-loving friends, family or co-workers is not only a grand excuse to hang out and play on the river, it's also a unique chance to have a blast while showcasing mind-blowing creativity in a friendly competition.
Judges will select a winner in each of the following four categories:
1. Most Creative - clever and imaginative
2. Green Machine - best use of recycled and green materials
3. Funniest - generates the most laughter and
4. Judge's Choice - overall best in parade.
The Yachts will be arriving at RiverFest 2016 held at The RiverLink Sculpture and Performance Plaza at 144 Riverside Drive in the River Arts District (map) from 1 p.m. to 7 p.m. The festival has an exciting line-up of live music, starting at 2:30 with Grits & Soul, followed by Sirius.B at 3:45 at 5:15, it's headliner Floating Action. Read more about the bands.
RiverFest features beer from Highland and Sierra Nevada, food trucks Chef Daddy, Grateful Roots, Appalachian Chic, Deli Lamma and Belly up, and ice cream from The Hop. Admission is free and parking is available in the lots on both sides of the venue.
Be sure to stop by the viewing platform at French Broad River Park to cheer on the parade rafters.
RiverLink hosts the Anything That Floats Parade and RiverFest as community gathering opportunities on the French Broad River and as fundraisers to support their efforts in the environmental and economic revitalization of the French Broad River as a place to live, work and play.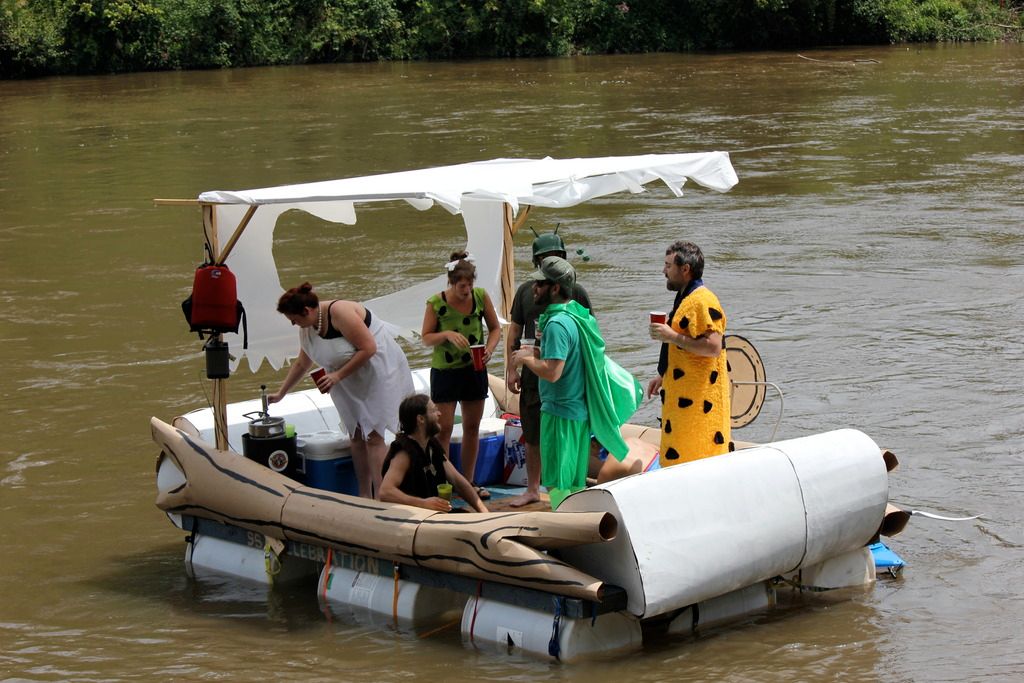 A yacht from the 2013 Anything That Floats Parade.