Once a month, Hi-Wire Brewing, 197 Hilliard Avenue on Asheville's South Slope (map), picks a local non-profit which has views aligned with the people who work there, and donates 15 percent of tasting room sales to the o

rganization. On Thursday, May 22, RiverLink is the featured non-profit from 4 p.m. -- 11:45 p.m. I

t's a fund- and friend-raiser for RiverLink and a good time.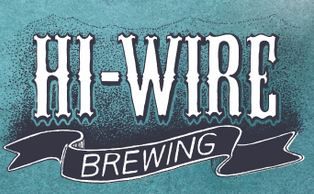 You can find Hi Wire beers on draught and in bottles at North Carolina bars and restaurants as well as in the tasting room. Bottles are available at area groceries, gas stations, convenience stores, and specialty beer/wine shops. Hi-Wire features four approachable year-round "Main Attraction" beers - Prime Time Pale, Hi-Pitch IPA, Bed of Nails Brown, and Hi-Wire Lager - a rotating selection of seasonal offerings, as well as "Side Show Seasonals", available exclusively at their tasting room.
RiverLink is the regional non-profit working to revitalize the French Broad River and its tributaries as a place for everyone to live, work and play. Funds raised by this series of concerts will go right back into the Asheville community. RiverLink's most recent audit documents that 85 cents of every budget dollar is spent on greenways, parks, water quality improvements, etc.