RiverLink is proud to host "Julian Price: Envisioning Community. Investing in People," a film directed by Erin Derham featuring music by The Asheville Symphony Sessions on Friday, Sept. 16, at 4:30 p.m. The event takes place at the RiverLink office at 170 Lyman Street in the River Arts District, with parking available at 12Bones (map), and features a Q&A session afterward. Proceeds from ticket sales will benefit RiverLink. Space is limited so reserve tickets by clicking here.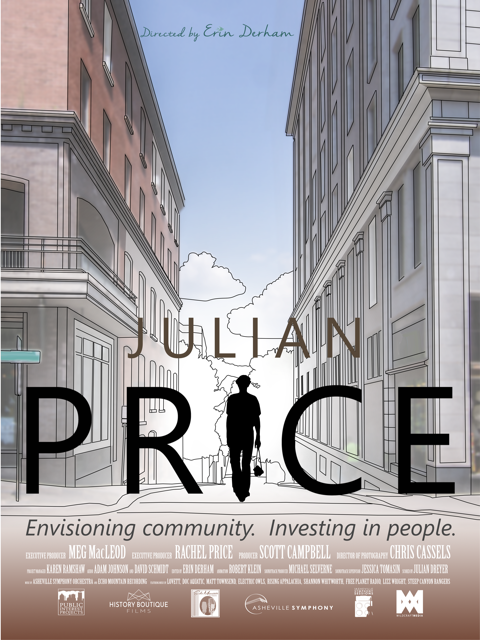 Using his family wealth, tenacity, wit, and incorrigible charm, philanthropist Julian Price inspired policymakers and entrepreneurs to do the impossible - transform a vacant, deserted downtown Asheville into a livable, vibrant center of commerce and culture. Price passed away in 2001, but his leadership and work impacts Asheville today. Driven by the beauty of its landscape and the potential in its vacant Art Deco architecture, Price searched Asheville for the brave, hardworking dreamers, and provided them with a miracle: capital for expansion in exchange for improving downtown with their presence. From the time he arrived in 1990 until his death in 2001, Price invested or gave away some $15 million on a mission to bring downtown Asheville back to life.
Says former RiverLink Executive Director Karen Cragnolin, "Most people think Julian invested only in the downtown, but he also recognized the potential of the French Broad and provided financing for RiverLink to buy the Warehouse Studios when no bank in town would give us a loan. All we had was a down payment from the Janirve Foundation and a dream for the future."
According to Edwin Arnaudin of the Asheville Citizen-Times, "'Julian Price' is a must-see for anyone who loves living in or visiting Asheville and solidifies Derham's status as an elite filmmaker."
The film is paired with music from the Asheville Symphony Sessions, a collaboration between local bands spanning all genres and the Asheville Symphony Orchestra. Bands include Steep Canyon Rangers, Lizz Wright, Rising Appalachia, Lovett, Doc Aquatic, and Matt Tonwsend. The music, arranged by Grammy winning composers, is the perfect partner to Julian's story of collaboration and intention.
The RiverLink Salon Series are informational sessions held throughout the year on a variety of topics that pertain to individual, community, and regional interests. Look for more information throughout the year on our Salon Series that are part of our RiverLink 30 Years Celebration.