RiverLink, the local non-profit working to promote the French Broad River as a place to live, learn, work and play, offers up a chance to play on Saturday, August 13, when the 19th annual RiverFest takes place. In addition to live music, food trucks, and local beer, the signature event of RiverFest is the Anything That Floats Parade, a procession of wildly decorated rafts built by creative minds from all over the Southeast.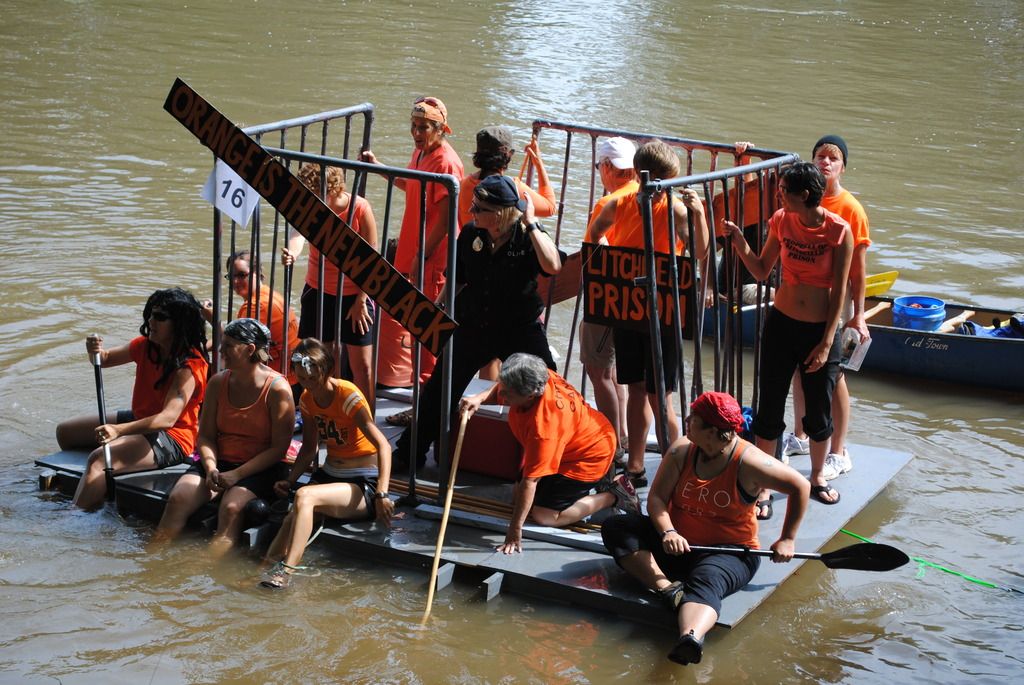 The Orange is the New Black float in the 2014 Anything That Floats Parade
Instead of its usual home at French Broad River Park, this year's RiverFest happens at the RiverLink Sculpture and Performance Plaza (the home of RiverMusic) at 144 Riverside Drive in the River Arts District (map). Gates will open at 1 p.m. and the fun goes on until 7 p.m. Music begins with Grits & Soul at 2:30, followed by Asheville favorite Sirius.B at 3:45 and headliner Floating Action at 5:15. The Anything That Floats Parade will terminate at the event site, offering optimal viewing.
There will be beer from Sierra Nevada and Highland, and food from food trucks Chef Daddy, Grateful Roots, Appalachian Chic, Deli Lamma and Belly Up. The Hop is bringing ice cream, too.
Registration is open for RiverLink's Anything That Floats Parade on the French Broad River. The registration form, including payment information, can be found at www.riverlink.org.
"The Anything That Floats Parade is one of the events that makes Asheville cool," says RiverLink's Volunteer Coordinator Dave Russell. "It's a chance to showcase local creativity and a great time is had by all."
For those not wishing to go to RiverFest to watch the rafts come off the French Broad, viewing the parade is possible at Carrier and French Broad River parks, and the French Broad River Greenway that connects them.
It's not too late to enter a raft. The deadline for entries is Wednesday, August 10. It's not only a grand excuse to hang out and play on the river, it's also a unique chance to have a blast while showcasing mind-blowing creativity in a friendly competition. Raft entries so far include Something's Fishy, Flip Flopping Away, Talespin, and a team from Highland Brewing.
The Anything That Floats celebrity judges will select a winner in each of the four categories:
1. Most Creative - clever and imaginative
2. Green Machine - best use of recycled and green materials
3. Funniest - generates the most laughter
4. Judge's Choice - overall best in parade.
RiverLink hosts the Anything That Floats Parade and RiverFest as community gathering opportunities on the French Broad River and as fundraisers to support their efforts in the environmental and economic revitalization of the French Broad River as a place to live, learn, work and play.